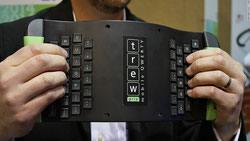 TREWGrip.  You hold the mobile keyboard and see the screen on the inside of the unit.  They say: "TREWGrip is a new form factor, or hardware platform, for enterprise mobility that enables mobile workers to be both mobile and productive."
We'll see when/if it emerges in 2017, as promised.  Still, it looks fun!
From TRUEGrip, LLC (http://www.trewgrip.com/).