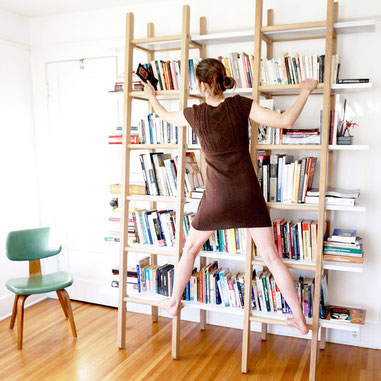 What's this?  Another reading-related post?
Well, who doesn't love functional art! 
From Designer Marc Scimé, here's an innovative and award-winning idea
which started as a grad-level class assignment at
Pasadena's Art Center College of Design.
Ever tried to reach the top shelf to get that dusty book
you've been putting off?
Now you don't have to teeter on a chair or upside down bucket to get it.
The oddly-named Huxley's Ladder Bookshelf lets you actually
climb on it to reach your intellectual heights.
Fun for kids of all ages!  Barefoot spreadeagled model not included.
For more images, grouping possibilities, and info, check out Yanko
or the A' Design Award and Competition page.